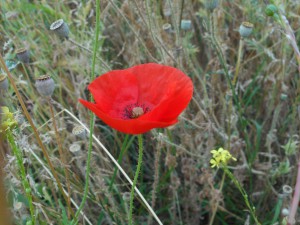 The Leader of Ealing Council, Councillor Julian Bell visited Perivale Park on Monday, 21 July to see the field of poppies that has been planted there marking a hundred years since the outbreak of the First World War.
Flowers have been symbolically planted  at six sites across the borough by the council's parks team and it is hoped they will flower each year in time for Armed Forces Day in June.
Gunnersbury Park Museum is also paying tribute to the centenary with two Arts Awards projects celebrating a very special collection of prehistoric flints which was brought back from the Somme by Major Frederick Sadler; a First World War soldier who lived in Acton.
The first of the Unearthing our First World War Heritage Arts Awards take place from Monday, 28 July to Friday, 1 August; for children aged seven to 11 years old.  This session is an Explore Arts Award and is fully booked.
The following session, from Monday, 18 to Friday, 22 August; for young people aged 14 to 21 years old is a Bronze Art Award and there are still places available.  To sign up, please contact Lisa D'Agostino at Lisa.D'Agostino@carillionservices.co.uk or 020 8992 2247/1612.
Children will meet a costumed character of Major Sadler who will explain the collection and talk about life in the trenches. Throughout the week children will also work with the production company Chocolate Films to create an animation about Major Sadler and his collection that will eventually be screened at Gunnersbury Park during Open House Sunday, on 21 September.
The young people taking part in the Bronze Art Award; from Monday, 18 August will work with the artist Stuart Simler to create a sculptural installation that will also form part of Gunnersbury Park's First World War Centenary exhibition in the Orangery on 21 September.
Both Arts Awards will be fun but hard work – children and young people must come to all five workshop days and if necessary continue with their artwork at home.  All of their work will go towards achieving the nationally recognised, Arts Awards.
Unearthing our First World War Heritage is funded by the Heritage Lottery Fund's (HLF) First World War: then and now grant.  HLF is also donating £4.7million to radically restore Gunnersbury Park by 2017 through its Parks for People programme.
Ealing Council leader, Councillor Julian Bell said:
"It was very moving to be pictured among the poppies which are such a simple and poignant reminder of the First World War.
"I am grateful to the Heritage Lottery Fund for providing the funding for the Major Sadler projects. It's important that children and young people know about the First World War and the impact it continues to have on our modern day lives.  Innovative art schemes like this that encourage them to use their imagination and creativity to interpret important historical events are a really fantastic way to remember the past and foster a lifelong interest in art and learning."
To find out more about events at Gunnersbury Park and the restoration project itself, visit www.ealing.gov.uk/gunnersbury