Keighley & Worth Valley Railway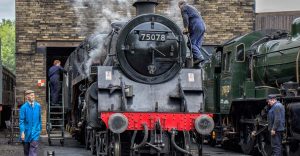 The Keighley & Worth Valley Railway is a preserved standard gauge line which joins the national railway network at Keighley and runs 5-miles up the valleys of the River Worth and Bridgehouse Beck to Oxenhope.
The Keighley and Worth Valley Railway Preservation Society was formed upon the closure of the line by British Railways in 1962 with the aim of returning a daily passenger service to the Worth Valley area.
The Society reopened the branch line from Keighley to Oxenhope in June 1968, just weeks before steam finally ended on British Railways in August of the same year. Despite the original aim of the Society to reinstate a daily service on the branch, it soon became clear that a full-time commuter service would not be possible, certainly in the first instance, and probably ever, although this has not stopped the subject of commuter trains being discussed at some length in the last 50 years or so.
For more information visit: kwvr.co.uk
---
The Watercress Line
Let off steam at this living history railway! Experience the nostalgic sights, sounds and smells of steam as you travel through 10 miles of beautiful Hampshire countryside, adjacent to the South Downs National Park.
Located just seven miles from the ancient city of Winchester, you can join the line at the picturesque Georgian town of Alresford or at the bustling market town of Alton. Fares give you all day travel, so you can visit all four heritage stations with period charm as well as these historic towns.
Alresford station is where the watercress that gave the line its name was sent all over the country by train from the goods platform you can still see behind the signal box. Here you can visit the West Country Buffet for some delicious hot meals, snacks and drinks, and visit our gift shop for a range of souvenirs and model railway pieces.
For more information visit: watercressline.co.uk/
---