Priava, the leading cloud-based venue management software company, has announced that a growing number of local government organisations in both the UK and Australia are deploying its cloud-based venue management software to maximise event bookings, reduce costs and improve services to local residents.
Councils face unique challenges in managing hundreds of community and commercial events and bookings every month across a multitude of facilities and spaces, including recreational grounds, sports halls, stadium, swimming pools, community centres, halls and dedicated function spaces.
Priava's cloud-based software – including event booking with an online calendar, venue and inventory management, CRM, task management, file storage, sales management, online enquiries, and catering modules – enables councils to manage bookings for multiple venues from a central application and offer online self-service bookings. UK councils that have so far adopted the software include Royal Borough of Kensington & Chelsea, London Borough of Ealing, London Borough of Waltham Forest and London Borough of Woking.
James Pegum, CEO of Priava, commented: "At Priava we understand that no two councils or government organisations are the same. Our purpose-built software has been designed to be flexible, intuitive and easy-to-use, with the aim of streamlining booking processes in accordance with the needs and existing processes of our council and government clients. This enables users to increase efficiency, enhance services, reduce costs and maximise occupancy and income across a diverse range of venue spaces."
Priava's system includes an online calendar, offering the public a self-service option to check availability and make room-booking enquiries.
Support for flexible working
As it is cloud-based, nothing ever needs to be installed onsite, which means different venues, spaces and facilities of all sizes can be managed using just the one application, and flexible working staff can be easily supported. Built-in reporting enables managers to check the utilisation of resources at a glance, ensuring local residents get the best value for money.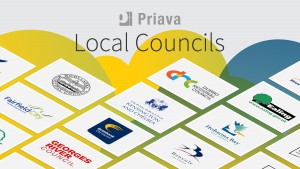 Key benefits for councils
Some of the benefits that councils are realising from automating the booking of facilities and running of events include:
Reduce administration costs, streamline the enquiry process and increase customer service experience by providing a self-service enquiry system with an online calendar & enquiry form;
Differentiate between internal & external bookings quickly and easily by creating separate rates and financial codes specific for each venue and facility that can be exported to accounting packages;
Maximise revenue generated from commission payments by accurately tracking referral sales for all third-party suppliers; e.g. external caterers, event stylists, audio-visual suppliers etc.;
Saves time by managing repeat bookings and creating and editing re-occurring events with ease e.g. community group meetings, fitness classes, sports pitch bookings etc.;
Reports on usage of spaces and other intelligence e.g. top hirers, can be created quickly for senior management;
Eliminates the possibility of double bookings;
Improves venue/facilities use with access to real-time availability;
Reduces the burden on in-house IT department as all updates/maintenance are managed remotely by Priava and there is no need for an on-site server
Integrates with accounting packages, marketing systems and other software packages to ensure real-time sync of information between all existing systems and reduce errors from the duplication of data;
Supports flexible or remote working with secure access from any location at any time;
Ease of use of system reduces training for events staff;
Easy-to-use report designer enables administrators to create simple and effective catering booking forms and contracts etc.Key modules that form part of Priava's software include; an easy-to-use CRM system that allows users to add & edit contact, organisation and opportunity records with ease, Events & Bookings which combines the ability to access a sophisticated venue chart together with the ability to find, add & edit event bookings, Online Calendar & Enquiries which has been developed to boost efficiency for local authorities that manage venues that need to be booked on a self-service basis such as internal meeting rooms or external facilities that are in high demand (e.g. sporting facilities, community halls etc.) Catering & Inventory allow users to attach food, beverages, resources and equipment to quotes and event bookings with advanced reporting on profits and losses as well as the ability to link to accounting packages, Advanced Permissions which enables administrators to control the information that users have access to, and Priava's REST API which allows Priava to sync information with 3rd party systems such as accounting packages.

For further information
Tel: 0845 0744 250
Email: Sales.UK@priava.com
www.priava.com/sectors/government/