Data handling is number one concern relating to non-compliance
Apricorn, the leading manufacturer of software-free, 256-bit AES XTS hardware-encrypted USB drives, recently announced new research highlighting that companies were massively ill-prepared for the introduction of the General Data Protection Regulation (GDPR) enforcement deadline. Less than a third (29%) of surveyed organisations felt confident they would comply, and when questioned further and asked whether there were any areas they might be likely to fail, 81% could think of some area of the new requirements that might cause them to fail when it comes to GDPR compliance.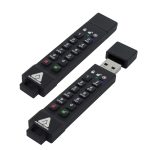 Fifty percent of organisations who know that GDPR will apply to them admit that a lack of understanding of the data they collect and process is their number one concern relating to non-compliance.  On top of this, almost four in ten (37%) believe they are most likely to fail because of gaps in employee training, and almost a quarter (23%) say their employees don't understand the new responsibilities that come with the GDPR.
"Data or personally identifiable information (PII) is at the heart of GDPR and mapping and securing it should be every organisation's number one priority. By now, all employees, from the top down, should have an understanding of the importance of GDPR and the role they play in keeping this data safe", said Jon Fielding, Managing Director, EMEA Apricorn. "While we know that many organisations have provided some form of employee training, clearly in some cases this hasn't been effective and organisations should address these gaps urgently."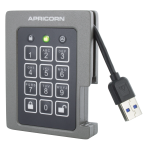 While almost one in ten still regard the GDPR as a mere tick box exercise, a substantial proportion do view it as being of some benefit to their organisation – for example 44% agree that the new regulation is a welcome opportunity to overhaul their organisation's data handling and security processes. However, three in ten (30%) worry they could fail to comply due to mobile working, and almost a quarter (22%) of respondents are concerned they may fail due to a lack of encryption. "There is a lot more awareness amongst companies since our first survey last year, but we continue to see a huge amount of confusion amongst organisations as to what to prioritise in order to tackle the regulation," added Fielding.
In line with this, 98% of respondents recognise that they will need to continue investment in policy, people and technology even now the deadline has passed. Investing in the necessary tools to make security processes easier and more efficient is vital, particularly when taking into account that Article 32 of the GDPR requires the pseudonymisation and encryption of personal data. "The best form of defence is to make sure everything you have is as locked down as possible and all PII is encrypted in transit and at rest," advised Fielding. "Organisations should research, identify and mandate corporate-standard encrypted devices and educate employees on their use to avoid the risk of a breach and being fined for non-compliance."
About Apricorn
Headquartered in Poway, California, Apricorn provides secure storage innovations to the most prominent companies in the categories of finance, healthcare, education, and government throughout North America, Canada and EMEA. Apricorn products have become the trusted standard for a myriad of data security strategies worldwide. Founded in 1983, numerous award-winning products have been developed under the Apricorn brand as well as for a number of leading computer manufacturers on an OEM basis.
About the survey                                                                            
The research was conducted by Vanson Bourne, an independent specialist in market research for the technology sector. Vanson Bourne interviewed 100 IT decision makers in the UK, during April 2018. Respondents to this research came from private sector organisations with more than 1,000 employees.
Vanson Bourne's reputation for robust and credible research-based analysis is founded upon rigorous research principles and their ability to seek the opinions of senior decision makers across technical and business functions, in all business sectors and all major markets. For more information, visit www.vansonbourne.com.