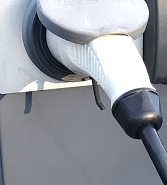 By Matthew Boulton, COO of Pivot Power
The public sector is grappling with the emerging public health crisis that is being caused by poor air quality in cities, resulting in an estimated 40,000 premature deaths each year in the UK. The electrification of transport is a powerful lever for reducing local pollution levels, whilst also contributing to our national climate change targets, and offers opportunities for Local Authority investment in infrastructure assets which can provide healthy and growing long-term revenues.
But vehicle electrification is not easy.
Price and range of available models have been key barriers, but the landscape is changing fast. All the main manufacturers have announced new electric models in their line-ups, and the rapid cost decline of underlying battery technology means that analysts such as Bloomberg predict EVs will be getting close to cost parity with fossil-fuel cars by 2022.
The number one barrier to new car buyers switching to EVs is range anxiety – the fear of running out of charge at the wrong time. To decarbonise our transport system, people need to feel confident that there are public rapid-charging options available when it isn't convenient or possible to rely on a slow overnight charge at home. And rapid charging of cars is a power problem. The newest rapid chargers can take 350 kW of power – as much power as an entire supermarket, just for one car. And it's no good turning up at a rapid charger and finding yourself in a queue. To guarantee availability in a world full of EVs, you need to have clusters of rapid chargers, and that requires an enormous amount of power.
Pivot Power has been established to decarbonise both our energy and our transport systems. We will be connecting huge lithium-ion batteries directly to National Grid substations in 45 locations across England and Wales. These batteries will enable the grid to accommodate increasing amounts of wind and solar, helping to smooth out fluctuations in their supply, so that the grid can be kept in balance on a second-by-second basis as we continue to reduce the carbon emissions related to electricity generation.
We have selected substations which are also close to key national roads and on the edges of big towns. In each location we will have access to 60 megawatts of power – the equivalent of supply to 30,000 homes. As well as using these connections for the batteries, Pivot Power will be taking power from each site to create intense clusters of EV charging capacity.
At the centre of each of these clusters will be a 'superhub' – a 100-bay (or more) centre for rapid recharging. At the superhub, passing drivers will be able to pause for a rest, maybe a bite to eat, maybe a quick catch up on phone calls and emails. They will have a range of rapid chargers at their disposal, able to top the car back up in anything from 5 to 45 minutes, depending on the traveller's requirements and vehicle's capabilities.
But there are opportunities to do more with that power. We can take it to nearby locations where there is potential for installing additional mass charging capability: bus depots, Park & Rides, retail car parks, corporate HQs and logistics fleet hubs. By creating a pocket of intense EV capacity in one area, we want to act as a catalyst for EV uptake right across the town – making residents feel confident that there is a range of convenient and available public charging options available.
How can a local authority play a part in this revolution?
As a planning authority – Whether it is for the initial 'battery on the substation' application, or for the superhub at the motorway junction and the cable connecting the two, the Local Authority will always have a key role to play in the statutory processes assessing those applications. We will be studying local development plans and engaging proactively with you to try and make sure these developments fit into your local strategy and objectives.
As a land owner – We will be looking for land to locate the new superhubs. If the Local Authority has suitable land for this purpose, or for the creation of new fleet-charging locations (bus depots, Park & Rides), these could become valuable sources of revenue.
As a public service provider – A Local Authority may wish to lead the local push to transport electrification, converting its own vehicle fleets (cars, vans, refuse trucks) and creating the charging infrastructure it requires.
As a policy maker – Once it has established a strong network of local EV charging, the Local Authority can push harder on zero emission zones for the city centres, and mandate a quicker transition to electric buses and taxis.
As an investor – Pivot Power will be building core, strategic assets for the country's future. Whether or not these are located on Local Authority land, there will be opportunities for co-investment in both the batteries and the EV chargers as a means of securing long-term revenues into the public purse.
Pivot Power is trying to accelerate the EV revolution, and is looking to collaborate with Local Authorities who want to grab the opportunity to shape the impact that revolution has locally, designing and installing appropriate infrastructure which catalyses local EV uptake, improves local air quality targets and establishes reliable future revenue streams, setting an example for other towns to follow.