By: Sascha Giese, Head Geek, SolarWinds
A new study by SolarWinds suggests that U.K. public sector technology professionals are at an inflection point in their careers. They have one foot grounded in today's IT-focused realities, while also setting their sights on technology that's to come—often with some trepidation about their ability to manage it when it does arrive. SolarWinds' IT Trends Report 2019[1] uncovers an ambitious and career-focused drive amongst the U.K.'s public sector tech pros. It suggests they have a growing desire to utilise their technology expertise and focus on their career-based learning in order to play a bigger, more influential role in their organisation's innovation and strategy. With an understanding of the skillset and career development landscape, it's important to note that not only is more training in these emerging areas needed—it's desired.
Training priorities 
It's clear that tech pros have an appetite to prioritise career development on a weekly basis. When it comes to their primary sources for training, tech pros turn to industry events/trade shows (21%), vendor training sessions (20%), internal training and/or coworkers (13%), industry publications (13%) and online communities/forums (13%). However, each of these options are regularly hindered by factors like time and cost. Over a quarter say their day-to-day IT tasks extend into time earmarked for career development. This is concerning, considering tech pros tell us that they enjoy technology skills training, with 49% finding it informative, 44% saying it's engaging and interactive, and 20% reporting it's not long enough.
Given the time and resources pressure on training, in the year ahead tech pros should think about approaching skills development strategically and prioritise necessary learning based on the needs of daily operations and IT environments, as well as skills that translate to career growth. They should evaluate their current environments; for example, asking themselves which leading technologies from last year have actually made their way into today's IT environment. The trajectory from emerging, buzzword-laden technology and its real-world implementation should act as a guide for which technologies are best suited for the focus of training.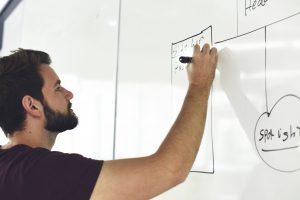 When the time comes to implement new technology to create efficiencies, there's a steep learning curve that creates double the work. To combat this, tech pros should ask management to define the core competencies of the business as they relate to technology, and then monitor for gaps between importance and training. Is the organisation buying new technology purely for testing and experimentation or will it be business-critical? When there's a gap between core competencies and skills in IT management, it becomes much easier to have a conversation about necessary training.
Charting a career development path
It's possible that some of the country's public sector technical professionals may feel as though their current IT environment doesn't justify an investment in new skillsets. But tech pros on the fence about training should consider this: the less proactive the IT environment, the more proactive tech pros should be when it comes to personal development. To truly capitalise on the opportunities presented by emerging technologies—and to ultimately remain successful five years from now—tech pros must commit to the mindset of a lifelong learner by taking a more disciplined, proactive approach to skills and career development.
The most effective way to achieve this is to start small and set aside manageable, realistic amounts of time to invest in personal development. Learning can happen in short bursts of just five minutes; and five minutes twice a day adds up fast. By investing in learning as a lifestyle, common challenges such as finding time to sit down and complete a training module become easier to overcome.
Learning the language of business 
As technology becomes increasingly inseparable from business success, the IT department is more important than ever. There's often a misperception amongst tech pros that more work can be accomplished on a command line rather than in PowerPoint, but the opposite is actually true: tech pros who can learn the language of business (and it is a language) will be able to successfully influence technology decisions and enhance their resumes.
The ability to translate the technological impact of a decision to business objectives will positively influence future innovation and decision-making. IT often gets asked to provide training, but they might need the training to provide training upfront. Tech pros should look for someone who can help teach them how to translate traditional IT jargon, whether it's a technologist who has experience in business, or a business manager who can share insights and recommendations. 
This year's survey builds on the results of the SolarWinds IT Trends Report 2018: The Intersection of Hype and Performance, which revealed tech professionals' struggle to overcome the barrier of inadequate training, and echoing the convergence of IT roles from several years ago (de-siloing roles like SysAdmins, NetAdmins, DBAs, etc.). This year's survey continues to suggest that the lines between managed services—either by cloud providers or outsourced—and tools that were formerly considered cloud, DevOps, and traditional IT tools, respectively, are becoming increasingly blurred.
As a result, it's more important than ever for tech pros to embrace collaboration and feel empowered to work with other teams as needed. This holds true when it comes to knowledge sharing as well. A portion of tech pros around the world prefer to receive training primarily from colleagues, and so it's important to remember that knowledge gained could and should be knowledge shared with peers for the greater good.
[1] The statistics quoted in this article are taken from SolarWinds' UK Tech Pro Survey, A Look at the IT Upskilling Needs of Tech Pros Today that Will Help Transition Them into the Tech Pros of Tomorrow. The survey was conducted in December 2018 by C White Consulting. It yielded responses from 61 technology practitioners, managers, and directors in the United Kingdom from public sector small, mid-size, and enterprise companies.