Nottingham-based civil and electrical engineering firm McCann has committed to making its entire fleet of company cars all-electric by the year 2025 – after the business recently achieved 'Go Ultra Low' status.
McCann has already invested heavily in the future of its fleet of company cars over the previous 12 months – making 53% of its vehicles either electric hybrid or fully electric. Spearheading the fully electric car route are Carl Lancaster – Operations Director and Simon Gardiner – Director (Peter James Homes) who have both recently taken possession of the fully electric, Audi e-tron.
Six 7.2kw electric charging points have also been installed at McCann's Nottingham head office at a cost of £50,000, with further investment in the next generation of 22kw charger units planned over the coming years to handle the growing fleet of electric hybrid and all-electric cars.
The company has now been recognised for its efforts by achieving 'Go Ultra Low' status and set itself the target of using plug-in hybrid electric (PHEV) or all-electric vehicles by 2021, and then going all-electric across its fleet of company cars by the year 2025, significantly reducing its impact on the environment.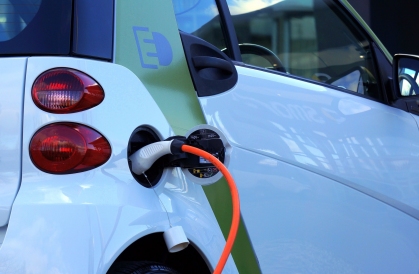 "Everyone now has a responsibility to help tackle climate change where possible, and we're passionate about making our own commitment by investing in the future of transportation for the business and factoring this into both our short and long-term business plan," says company MD, John McCann.
One of McCann's current diesel cars typically emits between 140-180 Co2 g/km, whereas the Audi e-tron 55 Quattro, earmarked as the 'car of the future' for the business, emits 0 Co2 g/km emissions and will still cover a range of 245 miles from a single, full charge. A transition period is now in place for all company directors and management to move to all-electric vehicles by the year 2025.
"Not only does changing to all-electric cars reduce our environmental impact, it also brings with it cost-saving benefits," adds John.
"Enough diesel to cover a 245 mile range would typically cost £44.60, whereas a fully charged electric car covering the same distance would cost the business £14.86,"
McCann is not only setting targets in relation to its fleet of company cars – all of the businesses HGVs and vans are now fully compliant with the latest Euro 6 emission regulations and will continue to adapt to the latest guidelines as technology evolves.
Paul King, McCann`s Fleet Manager, added, "The technology to make our company vans and HGVs run on electric is still a work-in-progress but as soon as this becomes widely available to the industry, we will definitely look at it as an option going forward. The hope is that one day our sector can be fully electric and eradicate the need for fossil fuels."
For more information about McCann, visit www.mccann-ltd.co.uk.