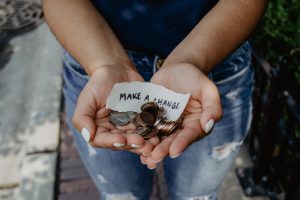 A new partnership between a charity platform and homelessness support network has launched with the aim of bringing local charities together to support vulnerable people and tackle the challenge of rough sleeping in Wakefield.
Investors in Community, a charitable giving platform which links good causes with businesses and fundraisers, will be working with Street Support Network and Wakefield Council to link more than 30 charities, voluntary groups and government services.
The network of organisations will provide long-term solutions for people who need help to transform their lives. Services such as getting rough sleepers into housing, where to get food, support for alcohol or drug addiction or advice on benefits.
The Street Support Wakefield website and app also enables local residents and businesses to see what they can do to help, which includes donating money or items such as food or clothes, and volunteering.
Residents can also contact the Council and Wakefield's Rough Sleeper Outreach Service if they are concerned about someone they have seen sleeping rough.

Phillip Webb, managing director of Investors in Community, said:
"Street Support Wakefield is a great initiative bringing good causes together to tackle the hugely important issue of homelessness and we are delighted to be working with the Street Support team, Wakefield Council and the 30-plus organisations supporting the project.
"The Investors in Community platform is free of charge for charities and it will enable them to shout louder about the fantastic work they have been doing as part of the Street Support Network, and gain extra support for businesses and individuals. Times are hard for lots of people at the moment and good causes are more important than ever to the vulnerable in our local communities."
Gary Dunstan, Co-Founder of Street Support Network, said:
"Due to COVID-19, more people are now facing hardship and homelessness; and local charities need the help of businesses and the public to help vulnerable people in Wakefield. We hope that this new partnership can capture all the kindness there is locally in Wakefield and direct it to where it is needed."
Investors in Community has been working closely with charities and businesses in Wakefield since a partnership with Wakefield BID brought companies together to collaborate on CSR projects.
For more information about Street Support Wakefield, visit streetsupport.net/wakefield/
For more information about Investors in Community, visit investorsincommunity.org/