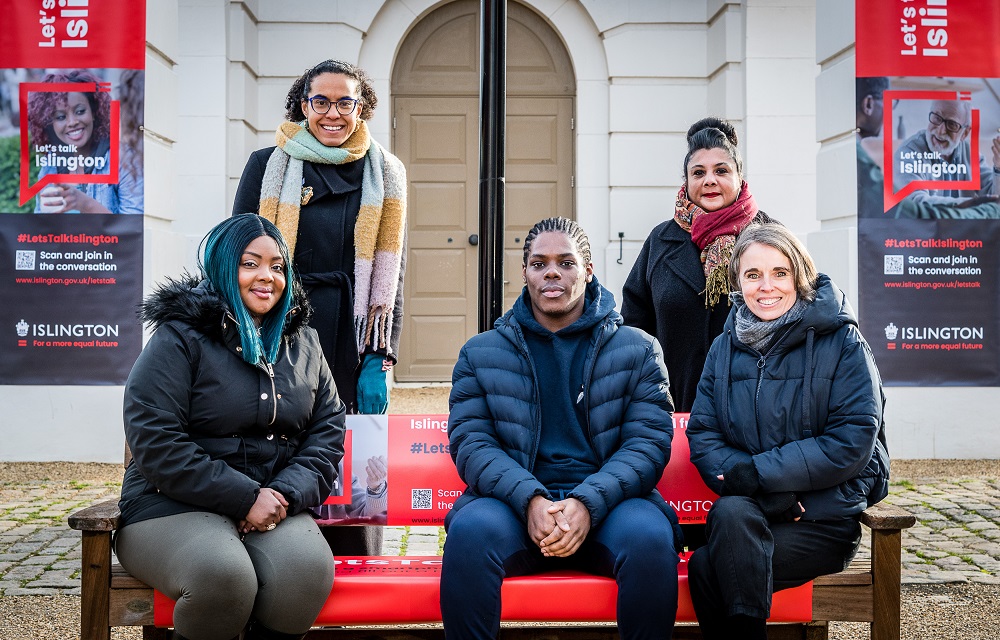 Islington Council has launched its biggest ever public engagement programme in a bid to explore local people's experience of inequality and, with local communities, help build a more equal borough together.
Spearheaded by Council Leader Cllr Kaya Comer-Schwartz, the Let's Talk Islington campaign will provide opportunities for people who live, work, and study in Islington to share their personal experiences of inequality and, together with the council, drive the change they want to see in the borough.
Let's Talk Islington comes a decade after the Fairness Commission was created by Islington Council to interrogate how to make the borough a fairer place. The pioneering approach resulted in a clear vision to take the steps needed to create a fairer borough (see 'About the Fairness Commission' section below).
Now the Council seeks to lead the way once more in addressing some of the most complex challenges people face by putting the community firmly at the heart of its plans.
The Council wants to collaborate with residents to collectively develop and test solutions to complex issues such as disproportionate access to mental health services, the unequal effects of air pollution, and inequalities in educational attainment leading to a lack of opportunities for some of Islington's young people.
From now until Spring 2022, the Council will work with the local community, voluntary sector, schools and others to facilitate and support a series of discussions, workshops, and creative activities, exploring in-depth how inequality affects life in Islington, and how everyone might contribute to creating a more equal future.
Let's Talk Islington officially launches today in Caledonian Park, where Cllr Comer-Schwartz will meet with residents on a symbolic 'conversation bench' ­– one of four to be installed in parks across the borough, including in Whittington Park, Islington Green, and Spa Fields.
The Inequality Task Force  
As part of Let's Talk Islington, the Council has assembled an Inequality Task Force of civic, academic, and business leaders with a mix of expertise across health, poverty reduction, and education, both with locally-rooted expertise and from further afield, to bring new perspectives in tackling inequality.
All Task Force members have a wealth of experience in working in partnership with communities, putting people at the centre of our plans (see below for a full list).
Islington Council Leader, Cllr Kaya Comer-Schwartz, said: "Islington is a wonderfully diverse borough, but we know access to the opportunities on offer is far from equal. The Covid-19 pandemic has shone a light on the inequalities which already existed in our society and it's more important than ever that we listen to local people, to better understand the impact of those inequalities and how best to challenge them.
"There is an immense opportunity, especially in the wake of Covid-19, for the Council to lead the way to a more equal future by actively seeking to understand individual experiences and priorities.
"We want our residents to take the lead, and to collaborate with us to design a new era of public service delivery. Old solutions won't work for the new challenges and greater complexities we now face. The balance of power must shift to the people in our communities, to those who live these experiences every day and are key to creating a more equal future."
Professor Donna Hall CBE commented: "Let's Talk Islington is an innovative approach to tackling inequality and social injustice through community power. I'm proud to be a part of it because these are things I believe in passionately and I hope I can add value to the conversation with partners and citizens."
The engagement period will culminate in a series of workshops in Spring 2022, in which residents, community groups, and local stakeholders will be invited to build on insights gathered and develop solutions to the challenges the community faces. This will inform the Council's strategic planning and be presented back to the public in Autumn 2022.
Residents can read more and get involved by visiting: www.islington.gov.uk/letstalk