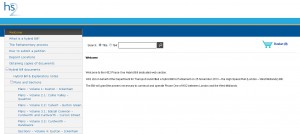 Imprima, the UK's leading virtual data room and financial documents provider, has been appointed by HS2 Ltd, wholly owned by the Department for Transport, to provide an online payment portal and USB-archived database containing Environmental Statement for the High Speed Rail 2 (HS2) project.
In a unique appointment, Imprima was chosen to enable the Government to share the hybrid High Speed Rail Bill for Phase One of HS2 (London – West Midlands) with interested parties, which included the press, MPs and the general public, due to its expertise in hosting and managing multi-user access to on-line information and data.
Following the recent first reading of the Bill in Parliament, Imprima helped the Government make the Bill information accessible and more easily available to the public – the first time electronic format was accepted for deposit of a legislative Bill.
Imprima optimised and compressed thousands of sensitive files, then indexed and mapped them onto USB memory sticks to allow for easy access. This enabled HS2 to facilitate public access to a well structured file system and also ensured that the data was presented identically to the HS2 website. Imprima also created a bespoke, secure online payments gateway, based on iRooms, where interested parties could easily purchase copies of the Bill and supporting documents.
Torgny Gunnarsson, CEO of Imprima, said: "We are delighted to be chosen by HS2 Ltd as a partner to assist with the secure sharing of a number of highly sensitive documents related to the HS2 project. Simple access to these documents was crucial and iRooms, our award-winning virtual data room service, proved an ideal and reliable solution.
"Utilising our bespoke technology to distribute thousands of files whilst ensuring their security and accuracy was our highest priority and represented no easy feat.  The execution undertaken on this project by our team was a huge success and we are delighted to have been able to play a small role in enabling the HS2 project to hit another milestone on its continued journey."
Tony Malone, Deputy Chief Information Officer of HS2 Ltd: "Working with Imprima we achieved something never done before by depositing a major piece of transport legislation in an electronic format.  As we move ahead through the Parliamentary stages for the Bill and through the continuing work to deliver the project I am confident that with Imprima's help, we can continue to perform to the high standards we have demonstrated to date. I very much look forward to continuing to work with Imprima as the HS2 project progresses."