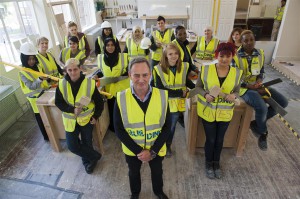 Award winning Social Enterprise Building Lives appeared as proud as punch as they picked up the Award for Best Training Programme in Feb 2014. According to Housing Innovation Award event organisers, these are the only awards to focus solely on genuine enterprise in the sector.
The 2014 winners were decided by an independent panel of industry experts and announced at the annual gala dinner on 06 February 2014, where housing's most enterprising professionals had converged on London's Grand Connaught Rooms.
Berkeley Homes North East London sponsors of Building Lives Most Innovative Training Programme Category. John Sanders, Head of Construction said he was 'delighted' to present the award to the Building Lives team. And it appeared that the Berkeley Group are just one of Building Lives many partners in London, which include social landlords and local authorities such as: Peabody, Camden Council, Hackney Homes, Sutton Council, Poplar HARCA, Thames Reach and many more…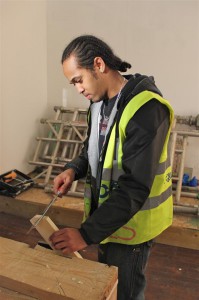 Steve Rawlings, CEO Building Lives commented 'Achievements like this are all down to the dedication and hard work of the Building Lives staff and simply would not be possible without the fantastic army of partners that Building Lives is proud to work with. Thanks to everyone involved who made this possible.'
Partnerships in fact plays a vital role in the success of this rapidly growing Social Enterprise. And it seems it is only in collaboration, that Building Lives have managed to establish five training academies in deprived areas across London (Camden, Hackney, Sutton, Tower Hamlets & Southwark). Some may suggest their growth strategy which includes a further four new Academies in 2014, is rather ambitious. But it is worth that noting Building Lives is no ordinary Social Enterprise. It was set up by  entrepreneur Steve Rawlings, a man with a track record of building successful construction businesses. When Steve Rawlings, founder of Lakehouse, discovered around half of people living in social housing were unemployed, he decided to do something about it.
"I'm delighted that an entrepreneur like Steve Rawlings has stepped in with the Building Lives model." Former Mayor of London, Ken Livingstone.
"I grew up in the East End and started my career as an Apprentice Roofer having left school with no qualifications. In 2010, I realised lots of people were struggling to get jobs. And I realised there would soon be a huge skills shortage unless we acted quickly. To help others get into an industry that I fell in love with, I set up Building Lives and have never looked back! The thing that makes us different, is that we are training for jobs, not for someone just to end up with a certificate. I spent my whole life trying to make money, but now I'm building lives, which I've discovered, is so much more rewarding." Steve Rawlings, CEO & founder of Building Lives.
With each Training Academy helping 50 local unemployed people every year secure paid apprenticeships and 4 out of 5 apprentices going on to sustain employment 6 months after they have completed their apprenticeship – it is no wonder Building Lives already has a waiting list of Social Landlords for 2015.
Not only are local unemployed people trained up an supported into sustainable construction careers, but neighbourhoods are transformed, as unloved community spaces are converted into training academies, revitalising entire communities. Building Lives mission says: 'we welcome everyone' and their impressive stats evidence this:
10% Women, industry average is 1%
40% Ex-offenders
50% NEET (young people Not in Training Education or Employment)
50% BME (industry average 3%)
30% Homeless
Building Lives has successfully brought together former competitors from across the housing and construction sectors to build lives for everyone, no easy feat. And they appear to be helping hundreds of people into construction careers who wouldn't have a hope in hell without their support, whilst also injecting fresh talent into an industry at a time of great need. New government statistics published recently show a steep decline in construction apprenticeship starts and completions. But the Building Lives Apprenticeship Training Model seems to be bucking that trend, with many SMEs thankful that someone has stepped in to support them to take on apprentices flexibly and with limited risk.
By the end of 2014 Building Lives will have engaged with over 1000 Londoners and will be offering 250 apprenticeships per year. So its no surprise that increasingly people and organisations are knocking down their door to be part of the Building Lives journey. They receive around 300 applications for each new Academy. Many of these form part of the 1million young unemployed people, but we discovered there really is no age limit for Building Lives Apprentices as their oldest on site at the moment is 58.
Being a social enterprise, everything (bar frontline delivery) is done on a shoestring, but their vision is grand. Steve's long term goal is to support 1000 apprentices into construction every year and take the model national. With such an enterprising spirit and passionate workforce, everything suggests this might actually be possible.
To find out more go to: www.buildinglives.uk.com