Reporter: Stuart Littleford
Each UK police officer could potentially be losing up to 28 working days a year due to siloed data, according to new research which has just been released by Dods Group PLC in partnership with MarkLogic Corporation.
The study was conducted to explore how police forces today are using data and what the barriers are to doing so more effectively. Front-line and senior employees from 34 regional police forces across the UK were surveyed.
Respondents were near-unanimous (91%) in stating that they would save time on a daily basis if they could access all operational data through one single search rather than multiple searches as is currently the case. Over half (57%) of those surveyed said they would save up to 60 minutes every working day, while more than a third (34%) stated they would save an hour or more.
Based on the survey, if an hour was saved every working day, each police officer would save 28 working days a year*. This would equate to 4.2 million working days each year if it were true of the entire UK police force, which employs 150,000 officers.[1]
The research also highlighted further evidence of the vital importance of more streamlined access to data among police forces, with 95% of respondents stating they need to access two or more databases or systems when working on a single case. A quarter of those surveyed said they rely on access to six or more databases or systems.
Imran Razzaq, Public Sector Lead for UK, Ireland and European Union at MarkLogic, said: "Reliance on data and information has never been more important to modern policing than it is today. The communities' police forces serve have become more complex and diverse, demanding a holistic response in the face of threats ranging from safeguarding to cybercrime and terrorism".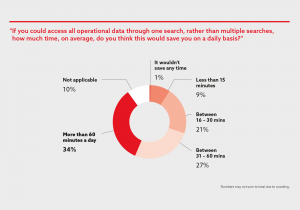 "However, this research highlights that the UK's police forces are facing the same challenges and frustrations experienced by numerous businesses today, namely that data stored in silos takes significant time to access and analyse. By adopting solutions to integrate data and provide 360-degree visibility, the impact for police forces is potentially enormous in terms of improved accuracy in clear-up rates, increased operational performance, and faster, more accurate and earlier intervention."
For further information on the research, or to request the full whitepaper, please contact MarkLogic via MarkLogic@libertycomms.com or visit www.marklogic.com
[1]According to a Briefing Paper on Police Service Strength published by The House of Commons Library Research. Figures correct as of 31st March 2017. Available for automatic download via researchbriefings.files.parliament.uk/documents/SN00634/SN00634.pdf
*To arrive at the figure of 28 working days (based on a typical working day of eight hours) we have tallied the amount of time lost over one year per police officer. This equates to 227 hours, which is based on one hour lost each working day (260 minus 33 days for annual leave and Bank Holidays). We then divided this figure by eight (hours) to arrive at the end total of 28 working days. To demonstrate the potential impact if this were true for every police officer across the UK, we have multiplied this figure of 28 against the total number of UK police officers (150,000), which equals 4.2 million working days each year.