By Keith Cahoon, Business Development Director UK, Mist Systems
The demand for fast, predictable and reliable Wi-Fi continues to increase with our expanding reliance on access through 'Bring Your Own Devices' for work and personal use and demand for access to Wi-Fi provided by employers, education establishments and in other areas such as hospitals, conference centres and cultural venues.
However, it has been hard to satisfy this demand and to provide a consistently good experience across iPads, Chromebooks, Smartphones and other devices. US-company Mist Systems has arrived in the UK to address this challenge.  By leveraging Artificial Intelligence (AI) and the cloud, Mist makes wireless more predictable, reliable and measurable, and adds more value to the wireless network via scalable location services that personalise the mobile experience.
With the Mist Learning WLAN, time-consuming manual IT tasks are replaced with AI-driven proactive automation and self-healing, lowering Wi-Fi operational costs and saving substantial time and money.  For example, automated event correlation is used to identify the root cause of problems quickly.  Dynamic packet capture (dPCAP) is used to eliminate truck rolls for troubleshooting.  Plus, an AI-driven assistant enables IT administrators to get complex answers using simple questions, like "What was wrong with Bob's Wi-Fi last Tuesday?"
Mist also brings enterprise-grade Wi-Fi, Bluetooth® LE and IoT together so businesses can increase the value of their wireless networks through personalised location services, such as wayfinding, proximity notifications, and asset location. With Mist's patented virtual BLE (vBLE) technology, no battery beacons or manual calibration are required.
All operations are managed via Mist's open and programmable microservices cloud architecture. This delivers maximum scalability and performance while also bringing DevOps agility to wireless networking and location services.
Companies throughout the world are switching to an AI-driven WLAN in the cloud for multiple reasons.  First, they want more agility and scalability that cannot be provided with traditional on-premises solutions.  Second, they want more assurance for business-critical applications, with visibility into the user experience.  Third, they want to increase the value of the wireless network with location-based services that enhance the experience for wireless guests, employees, and customers.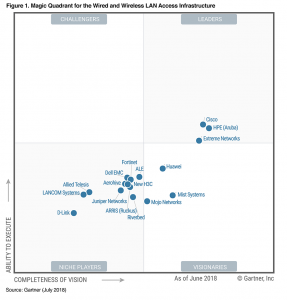 Below are some qualifying questions to determine if the move to an AI-driven WLAN is for you:
We have an aging wireless infrastructure and it requires a lot of time investment from IT staff
We only have a small IT team and they're already very stretched, we'd like to reduce Wi-FI demands on the IT team
Demand on our wireless infrastructure is growing daily and our current set-up just won't keep up
We seem to be constantly firefighting and troubleshooting wireless problems
We can't map wireless usage to identify demand from groups of users, locations or even days or times of day
We rely heavily on video calls and streaming and we can't get the speed or reliability we need
We want to move to a wireless infrastructure that can cope with demands today but also those of the future.
Example: using Mist for office environments
ThoughtWorks is a privately owned, global technology company with 42 offices in 15 countries and an IT department based in London. It provides software design and delivery, and pioneering tools and consulting services.
"We are a Wi-Fi first company," said Kevin Fenn, global head of networks at ThoughtWorks. "Most offices are open seating, with little or no fixed desks, nor wired connectivity. This means the WLAN always has to work consistently, reliably, and with the highest performance."
In addition, the company hosts many partners and clients in their offices who require simple and reliable access to ThoughtWorks' guest Wi-Fi network.
Finally, ThoughtWorks' employees are heavy users of video communications. There are approximately 45,000 video calls made per day globally across the company, which is about 7 calls per person on a typical day. These video calls have to work consistently and reliably, as the company's business depends on it.
Example: using Mist in education
Guilford College is a premier liberal arts school located in Greensborough, North Carolina.  In 2017, the school was ready to upgrade its five-year-old Cisco Wireless LAN (WLAN) infrastructure.
"Our primary goal was to provide reliable and measurable Wi-Fi coverage in classrooms, residential buildings, and the student union," said Chuck Curry, director – information technology and services at Guilford. "However, because we only have two full time networking people, ease of operations and automation was also paramount."
Guilford evaluated several options to streamline and improve its wireless services, eventually landing on Mist Systems. According to Curry, "The Mist technology is the most modern cloud platform on the market, providing unique visibility into the user experience and automation of day-to-day troubleshooting and operations."
The college is using the new AI-driven WLAN to:
Guarantee students' access to online content in classrooms with Wi-Fi service levels
Enable easy guest Wi-Fi via captive portal with SMS sign-in
Securely share personal devices in dorm rooms and common areas, like AppleTVs and Chromecasts
Enable easy troubleshooting by helpdesk using AI-driven virtual assistant
Provide analytics on mobile-user behaviour to optimise resources across campus, such as security guards and study areas.
Meet us
Visit our stand at ONUG London and find out why industry analyst Gartner has ranked Mist as a "Visionary" for the second year in a row in its "Gartner 2018 Magic Quadrants for Wired & Wireless LAN Access Infrastructure and Indoor Location Services" (download the reports here: www.mist.com/gartner-mq-mist-visionary/).
ONUG London – 7th December

The event covers issues such as IT strategies for digital transformation; the future of cloud computing and enterprise-level applications; the evolution in technology infrastructure.  Find out more and book your place: www.onug.net/events/london-2018/
Contact us: Website: www.mist.com/
Tel: 02032 395170
Email: keith.cahoon@mistsys.com