For GPSJ by Graham Jarvis – Freelance Business and Technology Journalist
In June 2018 Salford City Council won the Digital Council of the Year and the overall Digital Leader accolades at the prestigious DL100 Awards ceremony during Digital Leaders week. The latter award was drawn from the winners of all of the categories. Steven Fry, Head of Customer and Digital Services, Salford City Council, says this makes the city council the "best of the best."
He says it was an amazing feeling to hear Salford City Council's name being announced as the winner at the event, describing it as testimony to the hard work the council had put in. He adds: "Our live chat facility featured in the submission as evidence of how we are providing customer services in a way that our residents want.  Our call handlers can respond to 4 enquiries via live chat at any one time compared to just one via the phone."
Gemma Baker, Marketing Executive at live chat solutions provider Click4Asssistance, explains how the seeds of success were sown. She says that Salford City Council approached her firm to help the council to streamline resourcing and to support the council's constituent customers. The council approached her organisation during the winter of 2015, and after discussions about everything from live chat capabilities and strategy, Salford's live chat implementation began in April 2016.
"Having a reliable live chat solution, that is user-friendly, helps place representatives in a position where they can fully concentrate on the service they provide Salford City's residents", she claims before adding it means that the council can focus on what its citizens expect and require – a "fast and accurate response" to their enquiries. She elaborates: "It also aids managers overseeing the communication channel, to focus on their operators' performance and make improvements to their skills rather than being distracted by a solution that isn't working to their expectations."
Digital transformation
Beyond this, live chat and chatbots are part of the U.K. government and public sector's digital transformation agenda. So, there are a number of emergent trends to consider. From Fry's perspective, the first is about the fact that the public sector is embracing what he calls "true digital customer service design". Hot on its heels is the creation for 'true omnichannel services', and the third trend that he sees is the use of smart data, analytics, artificial intelligence and machine learning.
"I think the public sector were a quite a way behind the private sector in terms of end-to-end service design properly until recently, we at Salford believe service design should cover all channels from digital to face-to-face", he reveals.
This may be why he finds that live chat and chatbots are being cautiously introduced to the public sector. However, Fry considers live chat to be a great addition to his council's customer service options: "We have carried out a lot of analysis around digital capabilities within the city to make sure that technologies such as live chat would be utilised, and around 85% of our citizens in Salford are digitally capable, hence the reason we implemented it." In addition to this, he stresses that the council runs a digital first strategy – from end-to-end service design to face-to-face contact and telephony. The aim of this approach is to ensure that the council can cater for everyone living within the city.
Baker adds: "The government has set out a strategy to have local authorities digitally transformed by 2020. With the pressure on to achieve this, budget restraints also need to be taken into account. Therefore, live chat becomes one of the methods that councils can implement to enable them to satisfactorily support their residents, whilst decreasing staff resources and not spending a fortune. In fact, most councils using Click4Assistance have implemented live chat for less than £5000 per annum, and so there is no need for the tender process to procure this communications channel."
Chabot enhancement 
As for chatbots, Fry comments: "We're interested to see chatbots being used elsewhere as this could be a potential enhancement to the digital experience, allowing easy, tailored access to services on a 24-hour basis. The likely uses would be to help manage demand so that we can free up staff time to spend with residents who need more support."
"There are a few councils already taking a look into the technology but not many have actually implemented it", says Baker before commenting: "I reckon we will see this increase as AI can allow councils to dramatically reduce their contact centres and focus resource on customers who would prefer face-2-face contact,  as you would only need a few operators on hand to takes chats, should they be requested by the resident or the bot cannot supply an answer."
Role for Artificial Intelligence
Fry believes that artificial intelligence (AI) and machine learning (ML) will play a big role in government and public sector contact centres over the next few years. He thinks this will specifically be about tailoring the user experience and the user journeys:
"It will help to design and enable true public sector reform by understanding user needs, what services people with the city want to access, and to provide early insight for prevention and early intervention. This goes across health, social care, and debt, most of the wider determinants of health. What we are certain of is that whichever solutions we use intelligence-based workflow will be one of the biggest impacts for the organisation." 
Talking about Salford City Council's plan for using AI and ML in customer services, he explains that its teams are at the point of refreshing its digital strategy for the next 3 years. The purpose of this agenda is to consider how the council can best provide its services and link those aspirations with the relevant technology.  Having said that, he comments: "We can see that AI and ML would allow for differentiated approaches to delivering customer services. This is about getting the right information and to support people within the city."
People before technology
After all the council has a saying that "It's not about the technology; or the project management style, it's about the people who use the it." For this reason one of the authority's digital transformation programmes is called the 'Digital You programme', which he explains is about "skilling up 8,000 residents in the city who don't have the 5 basic digital skills". To achieve this goal, the council is working with the Good Things Foundation to create "a real movement for change in the city."
Speaking again about why Salford City Council won its awards, he discloses: "Another key part of our submission was to describe how we are racing to become one of the world's most attractive cities for digital enterprise." Fry says a City Chief Digital Officer has been appointed and a Digital Collaborative have been created to help it to achieve this ambition. The Digital Collaborative consists of Salford City Council, the Salford Royal Foundation Trust, Salford University and MediaCityUK.
He explains why this is important: "The whole ethos of the collaborative approach is around creating a single front door for inward investment in digital within the city and improving the opportunities and lives for the people who live in Salford. A recent announcement that Vodafone has set up a 5G test-bed in MediaCity UK. So, in summary, winning the award was about the city council's holistic approach to digital."
Top 5 integration tips
So, what are his five best practice ways to integrate live chat and chatbots into digital transformation programmes?  In response to this question, he offers the following tips: 
Ensure that you have the right strategy – make sure your digital service design is right;
Properly research your customer base in terms of digital capability and appetite;
Bring live and chatbots in when the customer is ready, and build it into your digital design;
Co-design the solution with those who will be delivering the service, as well as those who will be using it.
Upskill the workforce in live chat and social media by having a workforce development plan.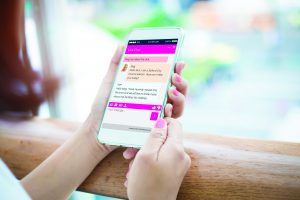 Baker also adds her advice, she says: "Look at areas of the council people are getting most frustrated with; struggling to complete a certain type of form, or as council tax is a very popular section there can be lengthy waits to speak with someone from that team etc. These are then the primary areas that need to have live chat added so representatives can better support residents. (It's better to have chat across the website but if only a few departments can have it then prioritise these first.)"
She concludes by saying that council must have a strategy in place to understand fully who will be managing live chat, the timescales involved in implementing it, customising it, and training etc. It's also an imperative to consider who the representatives handing the live chat will be: will it be handled by a chatbot or by a human being? There may some enquiries that are just perfect for a chatbot to answer, but there will be others that may require the empathetic human touch of a good customer services advisor. So, consider the purpose of the communications channel because once you've got a strategy in place, your Government department or council can work on being as successful as Salford.
For more information please visit: www.click4assistance.co.uk