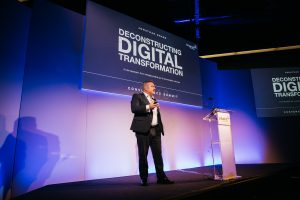 AMI Conversational Artificial Intelligence Solution Transforms Services for Citizens
Britannic Technologies, specialists in voice communications, systems integration and managed services, has deployed AMI, a conversational AI solution into Stockport Council's contact centre to improve customer experience. AMI has enabled the council to reduce the cost of customer response in the contact centre by 95%, compared to other communication methods such as telephone calls, emails and live web chat. For a council that receives thousands of enquiries a week the potential savings are huge.
However, it is not just about the cost-savings for Stockport Council. Their priority is about improving the customer experience. Stockport Council is modernising the way people access council services, using digital technologies to meet 21st century expectations of customer service and deliver routine services more efficiently. They are committed to human centred design, putting the needs of the people who will be using the service first, rather than the business goals or technical solutions.
Councillor Kate Butler, Cabinet Member for Citizen Focus and Engagement says, "We are redesigning the way we deliver our services, based on the needs of the people who will be using them. We are significantly improving the customer experience by embracing all the opportunities digital solutions bring, including online self-service."
For the past few years Stockport Council had been offering Contact Centre operated web chat for users who are online and need help, but they were looking for an Artificial Intelligence (AI) solution that could operate on a 24/7 basis and handle as many contacts from citizens as possible. The aim was to transfer low level enquiries to an AI solution and focus their contact centre agent support on customers who are vulnerable or have complex circumstances.
Britannic worked closely with Stockport Council through Discovery workshops to understand their needs in depth and what technology they had in place ensuring that it could be integrated into existing operations and infrastructure. They reviewed the areas where AMI could be used, where it could automate interactions and how it could help improve customer service. To assist the learning process Ami was initially focussed on environment, council tax, bins and recycling, roads and footpaths.
"In each area we studied the customers' journeys, looking at ways that we could make it easier for them to use. The chat is so simple; they ask AMI what they are looking for and it will present them with the information they require or guide them to a relevant page or the correct form on our website. If the enquiry is too complex, then it will hand over to a contact centre agent," says Alison Blount, Head of Revenues, Benefits and IAG.
Jonathan Sharp, Director, Britannic Technologies states, "Stockport Council has used digital transformation strategies to re-engineer business processes and modernise the workplace. They engage with customers to examine the journey they take, looking at every touchpoint with the aim to make is as seamless as possible for the users. They also look at how the processes work and flow together as an entirety rather than an isolated project.
"Through analysing the conversations with AMI, they can continue to learn about and identify improvements to the customer journeys for each service – any gaps in her learning indicate there's a need to revisit the web content."
As well as extending the hours when online support is available, there are no limits on how many chats Ami can handle at one time, so citizens are no longer having to wait for their queries to be answered. Now with the AMI solution 61% of enquiries are being resolved, while just 19% of chats are being routed to an agent because they are too complex for AMI to deal with.
"We selected Britannic as they understand the requirements of digital transformation solutions for the public sector, and they are accredited by the procurement frameworks. The fact that AMI can automatically update with any changes in our website, can handle unlimited conversations and we can also analyse the chats to make improvements definitely make it stand out from the competition," says Blount.
If you are free on the 14th November then please join us at our annual summit for business leaders, at Mercedes Benz World, in Weybridge, to see AMI in action and find out about Workplace Modernisation.
www.btlnet.co.uk/events/convergence-summit-2019
To the Ami page.
www.btlnet.co.uk/solutions/contact-centre/contextual-apps-and-ai