Royal Berkshire Fire and Rescue Service is made up of an engaged and dedicated team of some 700 diverse and talented individuals. We are a progressive and community-focused organisation that work as one team to deliver prevention, protection and response services to keep the residents of Berkshire safe. Our resilient workforce is made up of both operational and professional / support staff. In 2019, following our first inspection by Her Majesty's Inspectorate of Constabulary and Fire and Rescue Services, we were delighted that it concluded:
"Our first inspection of Royal Berkshire Fire and Rescue Service revealed that it is performing to a high standard. We graded the service as 'good' in each of our three main inspection categories. The people of Berkshire can be confident that they are being well-served."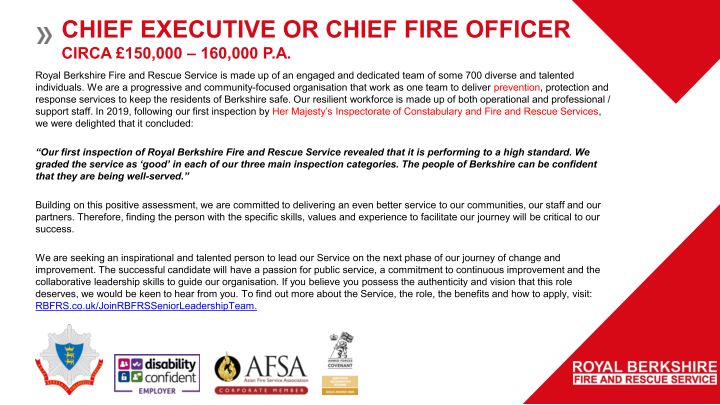 Building on this positive assessment, we are committed to delivering an even better service to our communities, our staff and our partners. Therefore, finding the person with the specific skills, values and experience to facilitate our journey will be critical to our success.
We are seeking an inspirational and talented person to lead our Service on the next phase of our journey of change and improvement. The successful candidate will have a passion for public service, a commitment to continuous improvement and the collaborative leadership skills to guide our organisation. If you believe you possess the authenticity and vision that this role deserves, we would be keen to hear from you. To find out more about the Service, the role, the benefits and how to apply, visit: RBFRS.co.uk/JoinRBFRSSeniorLeadershipTeam