YPO, one of the UK's largest public sector buying organisations, has made three appointments across its board and senior leadership teams, as part of a wider focus on stability and pandemic recovery for the organisation.
Julie Hawley will be taking the role of executive director of finance, Jacquie Lightfoot will be joining YPO as executive director of operations, and Darren Elvidge will be joining as head of technology.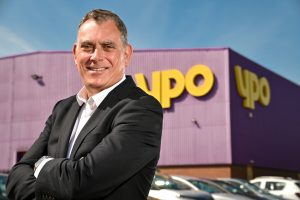 The three new appointments emphasise YPO's commitment to a year of recovery, following the challenges presented by the Covid-19 pandemic. This period will provide a strong foundation for enabling future growth throughout the organisation.
Simon Hill, managing director of YPO, said: "We're delighted to welcome Julie, Jacquie, and Darren to the team at YPO. It's important that we have the best expertise available in positions that can benefit the whole organisation. These appointments will support our dedication to recover from the pandemic and will bolster our position for the future."
Finance
Julie Hawley, the new executive director of finance, joins YPO as a qualified accountant (FCCA) with over 30 years-experience in the office products industry. With a thorough understanding of supply chain and logistics gained early in her career, Julie joins from Office Friendly where she worked as a managing director. Julie is recognised throughout the industry having received the Professional of the Year award in 2018 from the Boss federation, and the EOPA European Professional of the Year in 2019.
Julie will lead the organisations finance function and will also be responsible for the HR and learning and development teams. Julie is passionate about people and development and is a strong advocate for bridging the gap between education and employment, and for investing in people and teamwork.
Operations
Jacquie Lightfoot takes on her new role as executive director of operations, leading the operations and logistics functions, following a lengthy career working for a number of FMCG blue-chip organisations and developing a strong cross-functional breadth of knowledge. Jacquie will also oversee IT at board level.
Technology
YPO's final senior appointment is that of Darren Elvidge, who begins his role as head of technology following 21 years working across the public and private sector. Beginning his career as a software developer at a start-up company that built YPO's first ecommerce website, Darren joins from his previous position as systems, online and development manager at the Yorkshire Ambulance Service.
Part of Darren's responsibility is to lead a technology and process transformation at YPO to enable the organisation to deliver even more value to its growing customer base.
To learn more about YPO visit ypo.co.uk