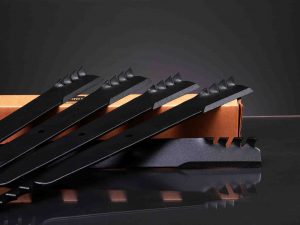 Reesink Turfcare is offering 10 percent off genuine Toro rotary blades in May to ensure there's nothing holding you back from delivering in the busiest season of the year. 
Never underestimate the importance of your rotary blades. If blunt or unbalanced, you can expect a poor cut and poor after-cut appearance, but also your machine's performance, productivity, economy and longevity is impacted.
Michael Hampton, parts manager at Reesink, says: "One of the most important things you can do for the overall performance of your machine is to make sure the blades fit properly and are sharp. Otherwise, your machine has to work that much harder to deliver and it can even lead to recuts. It also has a negative impact on fuel economy and cause additional wear and tear to your machine."
Toro's genuine rotary blades are designed for success. The brand's advanced research and development into this essential part means that when a Toro deck is paired with Toro blades a superior clipping dispersal and after-cut appearance is the result.
Not just that though, rigorous testing means they're proven to be safer too and optimal grass dispersion for side or rear discharge and recycling movement for mulching decks is guaranteed.
So, what about choosing the right blade? Toro's precisely engineered blades fit the cutting deck perfectly, but each is carefully crafted to specific turf needs.
Best suited to a grounds environment are the 'No Sail' (flat) blade as its particularly effective for areas that are not mowed as regularly making quick work of cutting down weeds. For later in the year, the 'Atomic Sail' works well for mulching up leaves or for use with a recycling deck to mulch the grass. So why not plan ahead and stock up now with 10 percent off!
Genuine Toro rotary blades are designed to work harder for longer, meaning you don't have to. And knowing you'll protect the health of the plant and get a great finish, ordering now will be time well spent. As always, parts are delivered within 24 hours of ordering, where stock available. Contact Reesink at info@reesinkturfcare.co.uk or call their Spare Parts team on 01480 226854.