ScannX software will add new, breakthrough functions to CZUR's overhead scanner to offer affordable book scanners designed for UK libraries.
D&H General Trading Ltd, a leader in the distribution and support of CZUR overhead scanners in the UK and thirteen European countries; and ScannX, Inc., a leading US software developer of document capture, delivery and cloud services, today announced a new distribution partnership of ScannX software in the UK and Europe.
This is the first time ScannX's market-leading software technology and capabilities will be available outside of the US. What's more, this partnership will extend the functionality of the CZUR scanners for UK library customers and staff. The scanner models supported by this new software include models ET18, ET24, ET25 and M3000 Pro series.
Murray Dennis, president of ScannX, says: "D&H General Trading is synonymous with quality and reliability in this industry, so it is the perfect partnership for us. The CZUR Pro series of overhead scanners, integrated with GDPR compliant ScannX software, will offer digital services not previously affordable to most UK libraries.
To date, ScannX has shipped over 3,500 book scanning systems powered by ScannX software to academic, public, law, and school libraries in the US. What's more, in excess of 220 million pages have been scanned using its scanners and software.
ScannX is proud to say that the US community of librarians, LibraryWorks, has recognised ScannX's software technology for its customer satisfaction ratings for the last nine consecutive years.
The partnership with D&H General Trading will ensure the UK company provides marketing, sales and support for ScannX's award winning software effective immediately.
"Offering our overhead book and document scanners with the ScannX software enables us to introduce innovative, easy-to-use scanning to libraries that are looking for an alternative to the more expensive overhead scanners," said Hao Zhou, General Manager of D&H General Trading.
"One study showed that a CZUR M3000 scanner, integrated with ScannX software, produced comparable excellent image quality results, with many more processing options than overhead book scanners that are more than twice its price".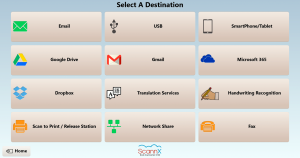 Libraries that want to build on their existing investment in CZUR Pro Series scanners can also now upgrade to ScannX software and cloud services. Bringing this new software and hardware together is a huge win for libraries who want the best technology available, but need to stick to tight budgets.
The ScannX software expands the use of CZUR book scanners from digitisation productivity tools to cognitive language services such as translation into over 100 languages and handwriting recognition; breakthrough technology at an affordable price.
For more information please visit: www.scannx.com