VALE Engineering is the UK's leading supplier of weed control and winter maintenance equipment for the municipal and amenity sectors. The company supplies high-specification Yamaha ATV quad bikes fitted with weed spraying equipment that can save time, staff resources and money – according to Paul Eccles of Tameside Metropolitan Borough Council.
VALE Engineering's latest weed spraying ATV, the PKL450, complies with all current emission standards whilst also being a significant step forward in terms of comfort and safety for the user. The PKL450 has rapidly become the equipment of choice for clients in the local authority, housing association, grounds maintenance and leisure sectors. The PKL Spraying System is generally considered to be one of the most robust and reliable in the marketplace, being one of the only spraying systems suitable for kerb-edge spraying, hard surfaces and mowing margins.
Tameside Metropolitan Borough Council, located mid-way between the Pennines and the City of Manchester, contains a mix of urban and rural landscapes with varied streetscapes and open spaces – including historic market towns, a canal network and industrial heritage areas. Paul Eccles, Operations Supervisor at Tameside, has been using the VALE PKL system for four years, commenting: "In early 2017 we approached VALE Engineering regarding their quad-bike mounted weed spraying equipment. Previously, we had just been using handheld equipment. I am so pleased we made that call to VALE as it has saved us time, staff resources and, most of all, money! Their PKL system has allowed us to utilise our time and resources much more efficiently, keeping on top of the weed growth as well as all our other commitments around Tameside."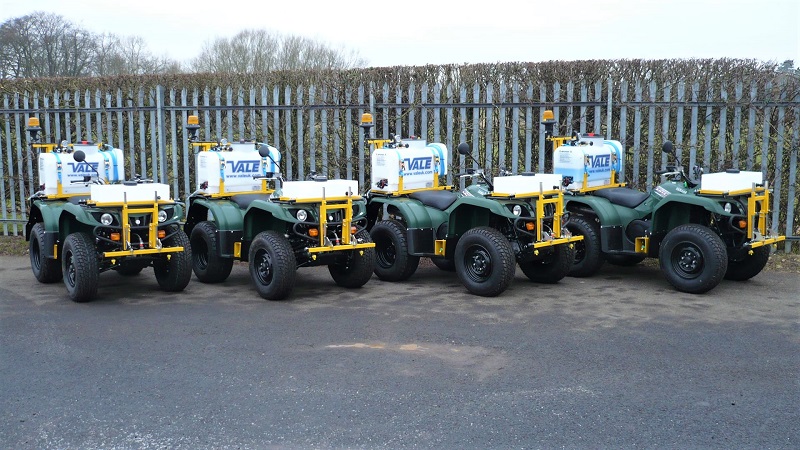 "VALE ATVs are supplied ready-to-go and fully road legal with lighting kit and E marked road legal tyres and, knowing they fully conform to the current British and European standard for spraying equipment, that provides peace of mind and ticks all the boxes on risk assessments and health & safety. VALE even offer some first-rate training to ensure our operatives are given the necessary skills and qualifications to be able to spray effectively and safely. I would definitely recommend the VALE equipment and training to others. For the cost, I genuinely can't see a better way as these ATVs mean my team can get around easily and spray every street within the Borough. I would recommend the VALE PKL system to any authority with weed control responsibility."
The PKL450 Spraying System's key features include:
70-litre sprayer tank with filter and baffle
Very low-drift nozzle technology
Kerb-edge spraying nozzles
Handlebar spray control
Front mounted clean water tank with 22-litre capacity
A limited quantity of the PKL350 Yamaha ATVs will still available from VALE Engineering whilst stocks last, backed by the company's spare parts and servicing departments.
For further information or to order, contact VALE Engineering on 01904 738533, email info@valeuk.com or visit the company's new website www.valeuk.com