The challenge:
The Royal Navy wanted to improve retention by understanding more about the lived experience of personnel and addressing common pain-points. The 40,000-strong staff includes sailors, engineers, medical staff, shore-based civil servants, trainers, and auxiliary service personnel. By the nature of their roles, the majority of personnel are not desk-based and prefer to use their mobiles to gain relevant updates.
The decision was taken to create a secure progressive web app, 'MyNavy', designed to support personnel from recruitment to retirement.
The Brief:
The Royal Navy specified that the app had to meet core directives:
to extend MyNavy's availability to the entire 40,000-strong force
to deliver targeted, personalised messages down to unit level
to meet and maintain the highest level of military security clearance from a personal device
to continue to expand over time, with additional functionality based on user need
 How MyNavy was created using Umbraco:
Digital product and service design agency, Great State, was selected to develop the MyNavy app. Great State used open-source content management system (CMS), Umbraco, for building the progressive web app because of its security, intuitive editing, seamless integrations and extensibility.
Andrew McKaskill, Lead Technical Architect, Great State, explains, "From a technical perspective, MyNavy uses Umbraco as its control centre. There's an API gateway, an identity system and our front-end web sites, but the only place where editors are logging in to make any changes is Umbraco. The ease with which new editors can be brought up to speed on how to create content is a real bonus. As developers, we really value the way that Um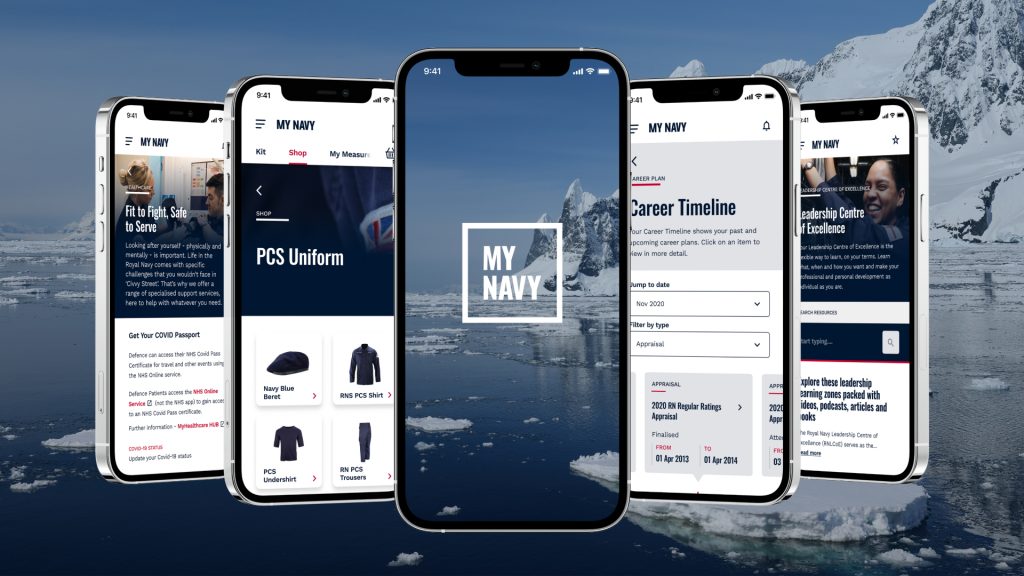 braco enables non-technical users to edit the content but also constrains what else they're able to do so that they can't inadvertently break the system."
To address reported frustrations with obtaining fresh uniform, Great State integrated Ucommerce to power MyNavy's uniform ordering service and built the MVP within twelve weeks. Data pulled from the Ucommerce engine is merged with stock level data from the internal Navy systems and managed within Umbraco's content editor. Umbraco Forms was used to build six custom forms for special uniform orders and to gain user feedback on beta trials.
"Data has to remain on military servers in the UK. Security is built into Umbraco, another reason why it's so perfect for this app. The flexibility of Umbraco really shines because it can support all these different architectural styles when we're developing a solution like this," states McKaskill.
"Umbraco acts as the framework that everything lives around, allowing the Navy to control all of the different app components. When we migrate to Umbraco 10, we'll be looking at using the composable digital experience platform to incorporate other apps. Umbraco offers us the required flexibility in terms of how we're able to put together data structures and content. Its extensibility is a real bonus."
Future-proof composable technology:
The app is based on an extensible platform so that it can deliver comprehensive support covering training and career planning, healthcare management, family support and arrangement of travel, with more functionality added over time.
Umbraco's composable architecture and headless CMS provides the Royal Navy with the flexibility to select and integrate the most appropriate third-party applications, rather than being locked-into a single vendor's feature set.
Improving the lived experience of personnel:
MyNavy has been used to digitise previously analogue processes that were causing frustration. A user survey found that 91% of respondents reported that the click-and-collect uniform ordering service improved the experience and saved time.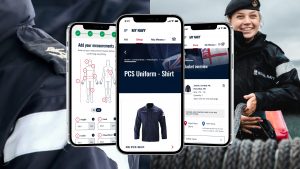 The 'Announcements' feature allows targeted messages to be sent to units, or bases. Nominated editors log into Umbraco, tailor announcements and select the recipient group, so that relevant information is shared with 2,000 people within their unit, rather than broadcast to the whole force. Naval personnel now receive relevant notifications that will enable them to prepare for promotion, apply for new opportunities and progress their careers.
Great State also built a Joint Medical and Employment Standard (JMES) feature into MyNavy which includes a video to help personnel to understand their JMES data. The Healthcare feature helps people to take ownership of their medical status and improve their operational readiness.
Measurable Results:
Built as an internal platform, access has been extended to the entire force of 40,000 people, including civil servants, auxiliary services and Naval Reserves. The platform was accessed more than 168,000 times in a single month, equating to 75% of the force using MyNavy and 84% of users accessing it from their smartphones. The 'Have Your Say' feature has provided valuable feedback to Royal Navy command and generated user-led recommendations on new features that could be included in MyNavy.
Today, MyNavy is used by 35,000 people all over the globe, with 8,000 visits registered every day. It has removed the frustration of previously analogue processes and has digitally connected and empowered a globally dispersed workforce. The MyNavy app has been hailed by the first and second Sea Lords as an example of transformation best practice within the armed forces.