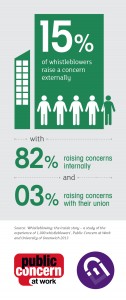 Article by Rachael Tiffen, Head of Counter Fraud and Governance at CIPFA
Establishing clear guidelines and policy for whistleblowing is a significant part of preventing and detecting fraud and misconduct in the workplace. It isn't something which should be overlooked or swept under the carpet, especially as public services fraud costs the tax payer an estimated £21 billion per annum.
In the UK we still have some way to go when it comes to addressing whistleblowing and creating internal reporting systems that enable this, as highlighted in the 2013.
The Commission's Code includes, "15 recommendations for raising, handling, training and reviewing workplace whistleblowing. Key requirements include:
confidentiality will be maintained where requested;
clear assurances are given to staff about protection from reprisal;
specific individuals have responsibility for the arrangements;
greater oversight of whistleblowing arrangements by non-executive directors or equivalent;
review of the effectiveness of the arrangements and publication of key data."
Individuals who have previously tried to raise concerns have often had to show remarkable courage in coming forward and putting their head above the parapet. This is still true today, in both the public and private sector, as a lack of clear guidance, effective processes and protection deters people from stepping forward to flag concerns at work.
Whistleblowing policy should play a central role in any industry, as no one is truly immune to the threat of fraud. Having in place a defined procedure for reporting fraud and misconduct at work is an integral part of good governance, compliance and risk management too. The benefits of getting this right and listening to a concern raised can help prevent disaster, avoid costly litigation, and potentially preserve a reputation.
According to a recent study of the experiences of 1,000 whistleblowers by Public Work (PCaW), 82% of whistleblowers raise concerns internally. Employees therefore play a vital role when it comes to protecting against fraud and corruption at work. Whistleblowing is everyone's responsibility and it's important to involve staff in discussion and debate about whistleblowing policy and the role it plays within your organisation. It's also essential to educate employees. Training can be used to equip staff with the right language, skills and approach to raising concerns at work, and to support an anti-corruption culture in the workplace.
Staff are the eyes and ears of public sector organisations, but there are a number of factors that can actively dissuade people from stepping forward to report misconduct or raise concerns. One factor we frequently see at the CIPFA Counter Fraud Centre is a lack of awareness of existing policies and procedures. With the complexity of fraud on the rise employees need resources, training and advice on where to go for help. Workers also need to know what to expect and how their organisations will support them, along with their rights if they do step forward. Knowledge and training alleviate misunderstanding, and boost confidence within individuals as well as the organisation they work for.
Understanding what motivates an individual to blow the whistle is also important, and there are a variety of reasons why people do this. Newer employees, for example, are more likely to blow the whistle and 39% have less than two years' service, according to the PCaW study**. Furthermore, 53% of whistleblowers are skilled workers or professionals. Many simply want to do the right thing, promote accountability and justice, or have a sense of responsibility and a desire to protect colleagues, their jobs and public funds.
At the Counter Fraud Centre we see common themes reoccurring when it comes to barriers to employees reporting misconduct. Examples of these common themes are: –
the intensification of the complexity of fraud
a perceived lack of support, both internal and external, for individual whistleblowers
a fear of repercussions
lack of awareness of internal reporting processes, and
clear systems and practices not in place.
All of these themes point to the requirement for individual employees to receive proper training and advice. Whilst staff should seek opportunities to equip themselves with the right knowledge, by approaching HR for example, the onus remains on employers to train their staff on the organisation's whistleblowing policy and effectively communicate its content and purpose. The process of training protects and supports employees who may wish to raise concerns by arming them with information on how to act including, raising the alarm outside of the usual channels and what steps will be taken to protect them.
A solution to this workplace challenge is a new whistleblowing e-learning package from CIPFA that empowers employees to act in the right way if they witness misconduct at work. The e-learning is suited for use in organisations where a whistleblowing policy already exists. Using scenario-led content and case studies, the course sets out how to raise and report concerns at work and aims to clear up 'grey areas' around processes, complaints and definitions. It also aims to provide a comprehensive understanding of whistleblowing and why it is important. Staff will learn: –
What whistleblowing is,
How best to raise concerns,
Where staff can raise concerns,
What to expect and how their organisation will support them, and
Rights and options for support.
The CIPFA Counter Fraud Centre has worked with the leading whistleblowing charity www.pcaw.org.uk/
The new package empowers employees to act in the right way if they witness misconduct at work. From an employee perspective it shows that their employers are listening to their concerns and demonstrating effective leadership, creating a positive working environment.
Whistleblowing should not be ignored due to perceived negative consequences for an organisation and its employees. There is a raft of potential problems facing firms or public sector organisations that do not adequately address the issue. Ultimately, if a system for whistleblowing is not offered within an organisation then that organisation exposes itself to further risk. Disgruntled employees with no effective means of redress will turn to external sources to blow the whistle, and this can be to the detriment of the organisation as well as the individual.
For more information and to download the e-learning programme go to the CIPFA Counter Fraud Centre web area: www.cipfa.org/services/counter-fraud-centre