By Grant Palmer, Managing Director of Axiell UK
With the rise of the internet and the influence that technology has on social behaviour, it's now possible for people to research, learn and interact without leaving their home or workplace.
So what are the trends impacting public library usage and how can local authorities entice visitors to frequent more often? Grant Palmer, Managing Director of Axiell UK, discusses some of the findings in the recent The Library of the Future report.
Our research shows us that more than half (56%) of those in the UK aged 16 years or over visit their public library, but visits are not a regular occurrence, with people making a trip to their library just 23 times a year on average. Libraries were established as places for reading and learning, so it was not surprising to see that the majority of people are using their library for this very purpose, with around two-thirds (65%) of people visiting their library to borrow a book to read. However, we also identified a number of other drivers that are influencing behaviours and visits. 
Today's library visitors  
The traditional role of the library is still important. More than half (52%) of adults like borrowing books and educational DVDs from a library rather than buying their own, for example, while 37% told us they make visits to research or work and around a quarter (27%) go for casual reading within the institution itself.
That said, technology and its influence on public libraries continues to dramatically change the landscape. So it was not surprising to learn that around two thirds (67.4%) of adults are interested in seeing at least one new digital element from their public library, from online community pages to eBook borrowing to ICT training in the public library itself. Wi-Fi and broadband services are also a pull for some, with around one in five respondents visiting their libraries to access the internet.
Creating a community hub: new services for greater appeal
Our research revealed that the public places high value on both 'community' and the role of the library.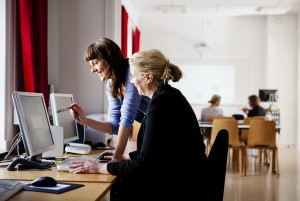 The appetite for community is strong, with 78% of the adults we surveyed agreeing that having a hub for their village or town was important. Engagement is also key, with 77% wanting to know people in their local area and 71% saying they are keen to have a place to meet others in their local community.
When we questioned adults on their views of libraries specifically, a significant 89% agreed that libraries are an important part of the community (46% of these strongly agree). There is a clear opportunity for public libraries to become the hub of the local communities that they serve, but the question is: how?
Evolving the services of the library is key, with 66% of adults saying they would visit their public library more if it offered a better range of services. Demand was high for spaces that offer entertainment and facilitate interaction, including social clubs, coffee shops or cinema rooms to watch short films.
Expanding educational opportunities was also cited, including free language classes, courses to learn digital skills, or the opportunity to meet and talk to experts or authors. A significant 61% of adults also expressed interest in their local library offering services such as a post office or parcel collection desk.
Creating the library of tomorrow means maximising relevance to the community and its citizen demographics. It's about creating outstanding customer experiences and embracing digital services to engage with patrons wherever and whenever they want to engage, and maintain a position as a critical community service.
With better technology, libraries can understand their customers' preferences better and use this information to target them with more personalised communications. It's not about being 'big data' experts, but using technology to leverage on data to essentially be able to offer people what they want.
Ultimately, any library engagement strategy needs to be about knowing your audience better and offering services to meet their needs. It is impossible for any librarian to memorise the needs of every visitor, but there are information systems and technology that is ideally placed to do just that – quickly and accurately.
With the right tools in place, libraries can not only work smarter but create an environment that allows staff to focus their time on engaging with and helping members of the community, whether they are in the library, at offsite events or online.
Axiell is the is the leading supplier of IT systems and services to European archives, libraries and museums with technically advanced and innovative solutions developed in close cooperation with its customers.